Little Pedibus is rated for up to 4 persons or a maximum load of 400kg. Seatbelts are fitted and the spongy foam seats provide comfort for hours of cycling
The Little Pedibus can be branded on the sides front and rear, as well as the roof. All cost effectively. You will be sure to have a big impact for your message.

How many Little Pedibuses
Up to 2 Little Pedibuses are available carrying 4 persons each including the driver.
The Little Pedibus has a detachable protective canopy which can shield all passengers in the heaviest of rain falls.
The Little Pedibus is as easier to drive than a small car. Insurance is included for short term hire and you can travel 20-30 miles per day happily with a crew of 3. However all drivers must have a full driving license.
You can hire the Little Pedibus by the day with or without staff. Without staff the price is from £95 per day excluding delivery and collection.
£4550 to buy £1750 per season lease
Hand made in London by Pedibus
Optional Extras
Seat belts
Satelite tracking
Stereo
Indicators
Lights
Custom canopy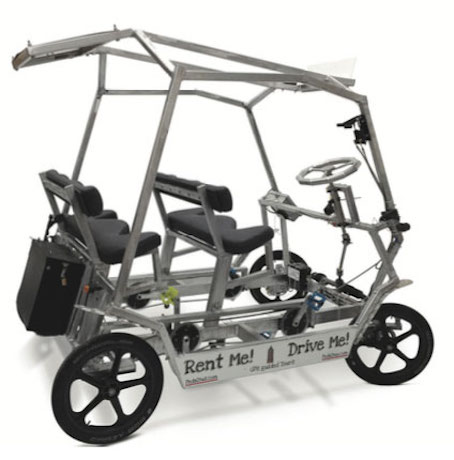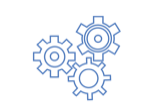 EEC: Compliant with all European product safety directives
Width:     135cm
Height:     187cm
Length:     228cm
Weight:     128kg
Maximum load:     400kg
Manufactured by Pedibus, London W11 3RB
Performance & Transmission
Passengers:     4 adults plus 2 small children
Brakes:     4 wheel independent hydraulic disc brakes
Steering:     Rack & pinion
Chassis:     6082 T6 structural grade aluminium
Transmission:     100% pedal powered with indiviual free wheel cranks
Wheels:     Pneumatic tyres with composite plastic mag wheels
Seats:     All weather foam seats with safety belt
Cruising speed:     6-8 mph