Take the party with you and cycle London differently
With a seating configuration similar to that of a dinner table, the Pedibus is the most fun and sociable way to explore the city. Come on board for one of our London Tours for up to 60 people, or book the Pedibus for an event.
Covid-19 update
Our tours are now running on a limited basis. Tours are only available on our Borough Market route on Thursdays and Fridays, and on our Shoreditch or St Paul's routes on Saturdays. There are also some other changes to the format and capacity of our tours, please visit our COVID Changes page for more information.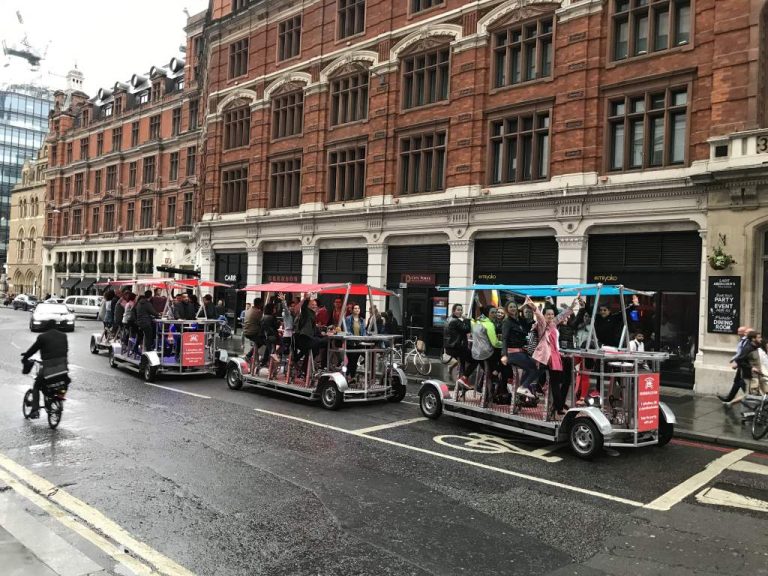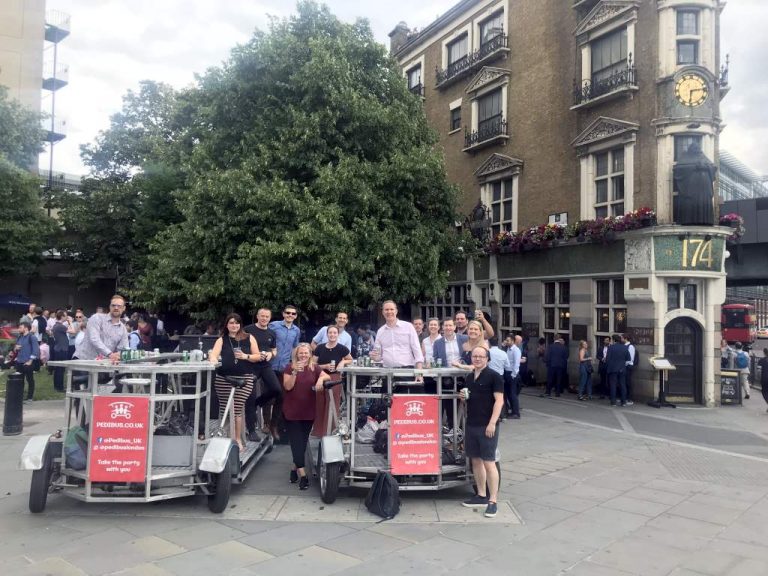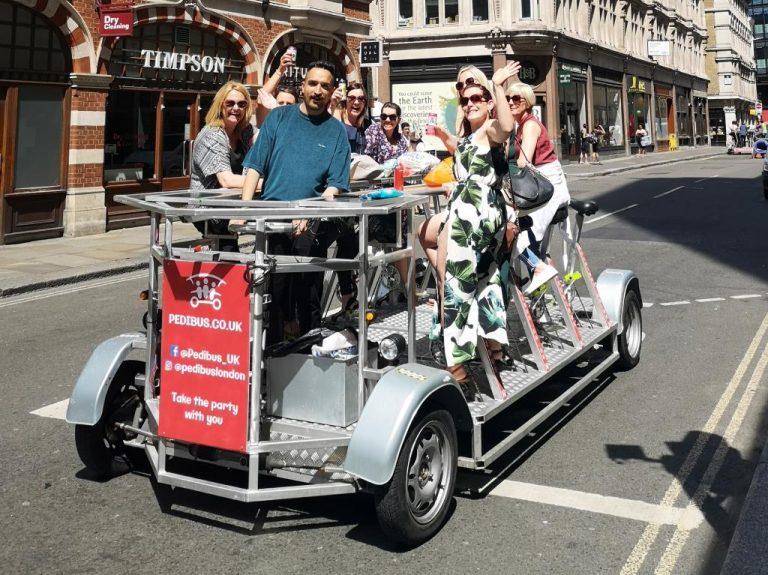 Whether you have something to celebrate, want to get together with friends, or have a work team building activity, our London tours are ideal. Tours run seven days a week throughout the year on four excellent routes, with space for 5-60 people per tour. Bring your own drinks, play your own music, and take a 65-75 minute tour exclusive to you & your group
– £25 per person
– Bring your own drinks
– Tours last 65-75 minutes
– Capacity for 5 – 60 people
– All bookings exclusive to your group
– Available 7 days a week
For more details, and to book: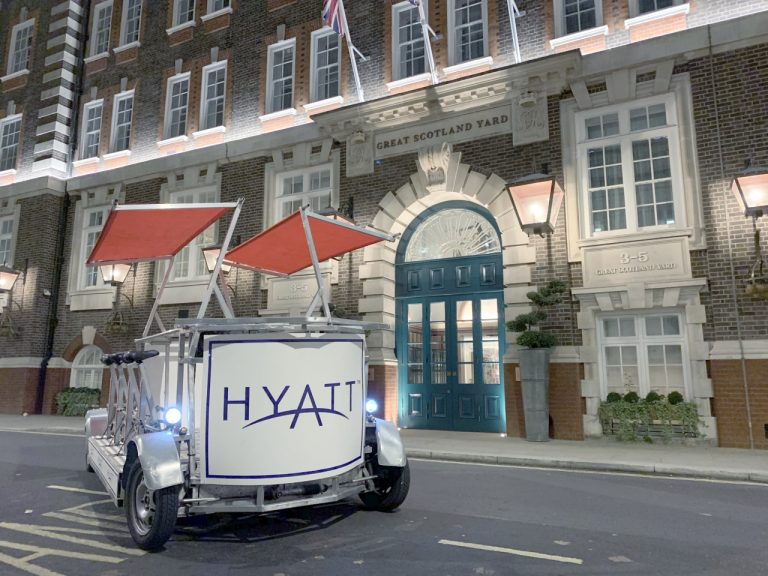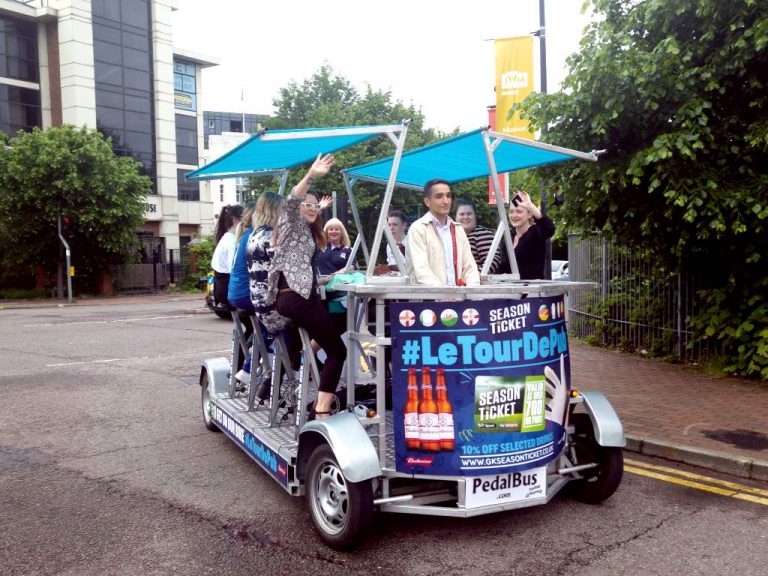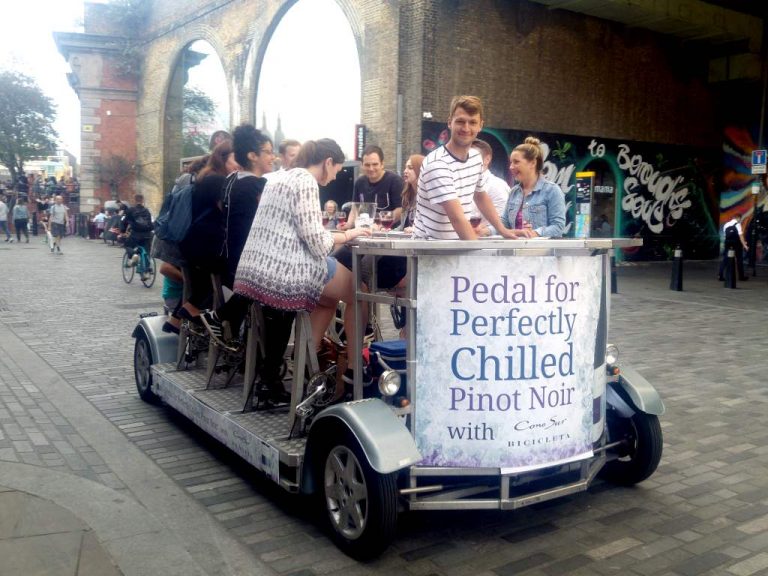 With it's unique styling, the Pedibus always turns heads no matter where it goes. If you need something unique to promote your brand or to use for an event, look no further. With a choice of two different types of vehicle, delivery available to anywhere in the mainland UK, and a team with years of experience, just get in touch for a bespoke quote.
– Ideal to showcase your brand
– Bespoke pricing
– Anywhere in the mainland UK
– Hire from 1 day to weeks
For more details, and to book:
Pedibus is a part of Party Bike Ltd.
Copyright © 2020 by Party Bike Ltd. All rights reserved
Tel: 020 3092 5555
Email: info@pedibus.co.uk